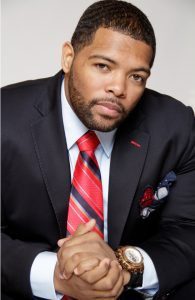 Dr. Mills, born and raised in Paterson, New Jersey, always possessed a fervent affection for providing urban youth with an alternative perspective on life. As a high school student, he quickly acknowledged the significance of becoming an educated African-American male in his community. He sought empowerment through education, discovering its significance to personal and societal development.
After earning a B.S. degree in Math Education from Montclair State University, Dr. Mills began teaching math at East Side High School in Newark, New Jersey. While working full-time, he earned a Master's of Educational Leadership at American Intercontinental University and later a doctoral degree in administration, policy, and curriculum from Seton Hall University. Later, at Malcolm X Shabazz High School in Newark, Dr. Mills served for two years as Math Department Chairperson and one year as Vice-Principal. At the age of 27, Dr. Mills was made Principal of this school, one of the most troubled in the Newark Public Schools District. With a history of low-test scores, MXS was threatened with the possibility of closure. Dr. Mills formulated a strategy of education reform, using his strengths as an accessible and relatable leader to recreate a safe school atmosphere where students and staff believed again in themselves, their school, and in education. Under his leadership, test scores drastically improved. School pride and a sports culture were also restored. The school's turnaround has been featured in the Sports Illustrated award-winning series "Underdogs," NBC's "Positively Black," an Emmy award-winning documentary "Saving Shabazz" produced by NJ.com, and articles by The Atlantic, Fortune, and Crain business magazine.
Dr. Mills not only serves as Executive Director of CAPS Paterson but also leads Academics across the CAPS network.